Doctor Strange in The Multiverse o Madness - The Loop
Play Sound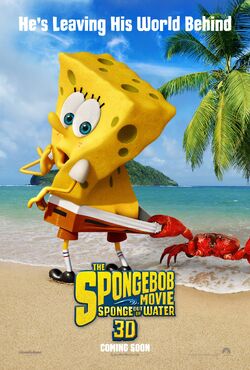 The SpongeBob Movie: Sponge Out of Water is the second animated film based on SpongeBob SquarePants created by Stephen Hillenburg. The film is directed by show writer and executive producer Paul Tibbitt, written by Jonathan Aibel and Glenn Berger, produced by Nickelodeon Movies and Paramount Animation, and was distributed by Paramount Pictures. It is the sequel to The SpongeBob SquarePants Movie, and stars the regular television cast of Tom Kenny, Bill Fagerbakke, Rodger Bumpass, Clancy Brown, Doug Lawrence, Jill Talley, Carolyn Lawrence, Mary Jo Catlett, and Lori Alan (all of whom are reprising their roles from the series and the previous film). Spanish actor Antonio Banderas was cast as the villain, Burger-Beard.
The film features live-action scenes directed by Mike Mitchell that were shot in Savannah, Georgia, and on Tybee Island. Filming began on October 9, 2013, in the downtown where various establishments were changed to resemble a "beach community" called Salty Shoals. Filming was completed on November 5, 2013. It was released in theaters on February 6, 2015 to positive reviews and was a box office success, grossing over $323 million worldwide against a $74 million budget.
Plot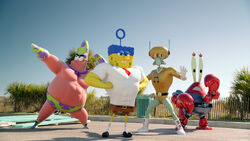 A pirate named Burger-Beard and his band of seagulls travel to an island to obtain a magical book whose any written text comes true. The book tells the story of SpongeBob SquarePants, a childlike sea sponge who loves his job as a fry cook at the Krusty Krab fast food restaurant and faithfully guards the Krabby Patty secret formula from Sheldon J. Plankton, owner of the Chum Bucket and business rival to Eugene Krabs, SpongeBob's boss.
In the undersea town of Bikini Bottom, the Krusty Krab is attacked by Plankton. After a military battle with giant foods and condiments, Plankton feigns surrender: he uses a decoy of himself to offer the greedy Mr. Krabs a fake penny, which he hides inside to gain access to Krabs' vault. Plankton steals the formula, leaving a fake in its place. However, just as he is about to escape, SpongeBob catches him. They have a tug of war over the formula, but it magically vanishes before either can claim it.
Without the secret formula, SpongeBob cannot make more Krabby Patties, and the customers become ravenous. Only SpongeBob believes that Plankton is innocent of stealing the formula, and when all of Bikini Bottom turns on him, SpongeBob rescues Plankton with a giant soap bubble that he and Plankton fly away in. Bikini Bottom is soon reduced to chaos because of the absence of the cherished and much-relied-on Krabby Patty. SpongeBob proposes he and Plankton team up to get the formula back; he attempts to show Plankton the meaning of teamwork, but he doesn't quite understand. Eventually, the duo decides to go to the Chum Bucket and rescue Karen, Plankton's computer wife, to use as a power source for a time machine that will take them to the moment before the formula disappeared. They assemble the machine at an abandoned taco restaurant, but accidentally travel far into the future, where they meet Bubbles, a magical dolphin whose job it is to oversee the cosmos. They eventually succeed in retrieving the formula, but it turns out to be the fake Plankton had left.
Burger-Beard, who's removed the final page of the book and rewritten the story so that he gets the formula, converts his ship into a food truck to sell Krabby Patties at a beach community. The final page, which Burger-Beard discarded in the ocean, lands on the tree dome of Sandy Cheeks, SpongeBob's friend and a squirrel living underwater. Crazed by the lack of Krabby Patties, Sandy thinks the page is a sign from the burger gods, and suggests a sacrifice be made to appease them. The town attempts to sacrifice SpongeBob, but he smells Krabby Patties, and the crowd allows him to follow the scent, which leads to the surface. Bubbles returns because SpongeBob, who'd neglected to keep Saturn and Jupiter from colliding, cost him his job as overseer of the universe. However, he hated the job and is glad to be out of it, and thanks SpongeBob by allowing him and his friends (Mr. Krabs, Sandy, Squidward, and Patrick) the ability to breathe on land. Plankton joins also, stowed away in SpongeBob's sock. Bubbles shoots them out of his blowhole and they land on a beach.
The team locates Burger-Beard and, using the book, he banishes them to Pelican Island. Using Squidward's ink and the final page, SpongeBob rewrites the entire team as superheroes. They return and give chase to Burger-Beard, unable to apprehend him until Plankton, who'd been left on Pelican Island, becomes a muscle-bound hero and comes to assist them. He retrieves the formula and, having learned the values of teamwork, returns it to Mr. Krabs. With Krabby Patties back, Bikini Bottom returns to order, and Plankton resumes his role as business rival, bringing things back to the status quo.
In a final scene, Burger Beard along with his seagulls in the Bikini Atoll island, sings the SpongeBob SquarePants theme song, when suddenly Bubbles arrives and sings a rap battle against the seagulls, eventually allowing them to finish the song and end the movie.
Cast
Production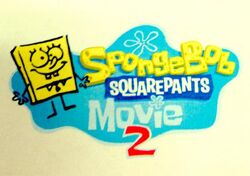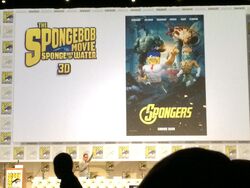 On February 28, 2012, a sequel to The SpongeBob SquarePants Movie was first announced to be in development and was slated for an unspecified 2014 release.[1][2][3][4] During a Deutsche Bank media and telecom investor conference in Palm Beach, Florida, Philippe Dauman, the president and CEO of Viacom, the studio's parent company, initially stated:[1]
The reports also told that the second feature film of the series will be directed by the series' executive producer and showrunner, Paul Tibbitt, written by Kung Fu Panda writers, Jonathan Aibel and Glenn Berger, produced by Mary Parent, and executive produced by series creator Stephen Hillenburg.[5] The main voice cast of the previous film, Tom Kenny, Bill Fagerbakke, Rodger Bumpass, Clancy Brown, and Carolyn Lawrence, are set to return. The sequel will be a combination of traditional animation and live action as its predecessor was.[6][7] Following the release of the SpongeBob SquarePants 4D: The Great Jelly Rescue, a 3D short film, in early 2013 at the Nickelodeon Suites Resort Orlando, the executives also talk of perpetuating the 3D stereoscopy in the next SpongeBob feature film.[8]
Animation
The SpongeBob Movie: Sponge Out of Water has live action and animated scenes. The animation is in 2D at the beginning but when the characters enter the live-action world they are 3D CGI.
Filming
The Savannah Film Office announced on July 11, 2013 that the film will shoot its live action scenes in various Savannah areas in Georgia for September, October, and November for approximately 40 days.[9][10][11][12] City of Savannah Film Services director Jay Self said "[...]we are very excited to be working with Paramount [Pictures] on this project[...] We know from experience how valuable the investment and exposure generated by a project like this can be for our community."[9][13][14] The live action scenes are being directed by Mike Mitchell.[15] Filming began on September 30, 2013, until November 5, 2013[16] on sound stages in Savannah, locations in downtown, and on Tybee Island.[17][18][19]
Music
The original score for the film is being composed by John Debney.[20]
Release
The SpongeBob Movie: Sponge Out of Water was released in theaters on February 6, 2015.[21][22]
Marketing
In an interview in his Times Square office, Philippe Dauman stated "This will be a Nickelodeon-branded movie[...] We'll license the toys, but we own it." A video game titled "SpongeBob HeroPants" is based on the film and was worked on by Activision. The game was released on February 3, 2015.
Videos
Trailers
Movie clips
Gallery
Premiere photos
Posters and Promotional Art
Miscellaneous
Trivia
On January 27, 2014, when asked why the title of the film was changed from The SpongeBob SquarePants Movie 2 to SpongeBob SquarePants 2, the series' Creative Director Vincent Waller replied "There is NO official title yet."[23]
This was the first film released by Paramount's new animation label, founded in 2011, and the first Nickelodeon film to be rated PG since 2011.
On October 11, 2012, Paul Tibbitt posted the logo concept on his Twitter.[24]
On December 21, 2014, a sneak peek of this movie was shown during a SpongeBob marathon.
In the first 2 trailers, Welcome to the Jungle (song) by Guns N' Roses is heard.
Released in the 4DX format, featuring environmental special effects that sync the film's actions for an enhanced movie-going experience, making it the third and first animated Nickelodeon film to be released in the 4DX format, as well the first Nicktoon-based film to do so.

When it was first released in that format at the L.A. Live theater in Los Angeles from February 6 to February 12, 2015, there were SpongeBob-themed seating (see gallery below) to commemorate with the film's release and the theater's "Family Day at the Movies" event.[25]

This was the first "major" animated film to use 2D traditional animation since the 2011 Winnie the Pooh movie four years earlier,
This was the fourth Nickelodeon Movies collaboration with composer John Debney, and the first SpongeBob project to use primarily the original musical score, instead of APM music.
As of February 27, 2015, this film surpassed The Last Airbender as the top-grossing film based on a Nicktoon, both domestically and worldwide, especially surpassing its predecessor.
The show's "MY LEG!" running gag makes a return in this film, heard when Mr. Krabs throws a giant "bun" stone.
Despite releasing in 2015, the film was nominated for the 2015 Kids' Choice Awards for Favorite Animated Movie (the KCAs normally nominate movies from the previous year). Ironically, it lost to Big Hero 6.
This was the last SpongeBob SquarePants film to include the 1967 MPAA logo in the end credits.
References
↑ 1.0 1.1 Miller, Daniel (28 February 2012). "Paramount to Release 'SpongeBob' Movie in Late 2014 ". The Hollywood Reporter. http://www.hollywoodreporter.com/news/viacom-paramount-release-spongebob-movie-late-2014-philippe-dauman295695

. Retrieved on 28 February 2012

.

 

↑ Levine, Daniel (28 February 2012). "Paramount announces plans to release second 'Spongebob Squarepants' film in 2014". TheCelebrityCafe.com. http://thecelebritycafe.com/feature/2012/02/paramount-announces-plans-release-second-spongebob-squarepants-film-2014

. Retrieved on 5 October 2012

.

 

↑ Chitwood, Adam (28 February 2012). Paramount Announces New SPONGEBOB SQUAREPANTS Movie Set for End of 2014. Collider. Retrieved on 31 March 2013.
↑ Arruda, Cameron (28 February 2012). Paramount Announces That A Second 'Spongebob Squarepants' Movie Will Come in 2014. Durance. Retrieved on 31 March 2013.
↑ Graser, Marc; Kroll, Justin (August 16, 2012). "Paramount ramping up animation slate ". Variety. http://www.variety.com/article/VR1118057934

. Retrieved on August 17, 2012

.

 

↑ Desowitz, Bill (29 February 2012). SpongeBob kicks off new Paramount Ani division. Bill Desowitz. Retrieved on 31 March 2013.
↑ Webb, Charles (20 August 2012). Is Paramount Prepping an Animated 'Legend of Korra' Movie?. MTV. Retrieved on 8 March 2013.
↑ Rubin, Judith (8 January 2013). Tales from IAAPA 2012 in Orlando. InPark Magazine. Retrieved on 24 August 2013.
↑ 9.0 9.1 SpongeBob sequel scheduled to film in Savannah. City of Savannah Film Office. Retrieved on 13 July 2013.
↑ SpongeBob movie sequel to film in Savannah. Atlanta Business Chronicle (12 July 2013). Retrieved on 13 July 2013.
↑ SpongeBob sequel to film in Savannah. Online Athens (11 July 2013). Retrieved on 13 July 2013.
↑ Brimmer, Adam Van. SpongeBob sequel to film in Savannah. Savannah Morning News. Retrieved on 13 July 2013.
↑ 'SpongeBob SquarePants' Sequel Will Begin Filming Later This Year. The Inquisitr (12 July 2013). Retrieved on 13 July 2013.
↑ Gallagher, Brian (11 July 2013). The Spongebob Squarepants Movie 2 Sets Up Shop in Savannah, Georgia.

MovieWeb

. Retrieved on 13 July 2013.
↑ Zahed, Ramin (28 May 2013). Mike Mitchell to Direct DreamWorks 'Trolls' Movie. Animation. Retrieved on 12 August 2013.
↑ 2013 - 2012 CASTINGS (PDF). Victor's International (9 August 2013). Retrieved on 22 August 2013.
↑ Logana, Don. 'SpongeBob Movie 2' to film in Savannah. WTOC. Retrieved on 13 July 2013.
↑ Spruill, Larry (12 July 2013). Movie: Spongebob Square Pants 2 in Savannah. WJCL. Retrieved on 13 July 2013.
↑ SpongeBob 2 to shoot here. Connect Savannah (11 July 2013). Retrieved on 13 July 2013.
↑ John Debney Named "Shining Star" by ETM-LA.

American Society of Composers, Authors and Publishers

(December 9, 2013). Retrieved on December 16, 2013.
↑ Chitwood, Adam (August 2, 2013). MONSTER TRUCKS and SPONGEBOB 2 Get 2014 Release Dates; Robert Downey Jr.'s THE JUDGE Opens 10/11/2014; OUT OF THE FURNACE Shifted. Collider. Retrieved on August 2, 2013.
↑ TOLDJA! Paramount Sets Date For 'Monster Trucks' & 'SpongeBob' Movies. Deadline.com (August 1, 2013). Retrieved on August 3, 2013.
External links