"And now, a look into your future."
This article is about a

Nickelodeon

show, movie, episode, or product that has not yet premiered or been released. Information may change as the release date nears.
The SpongeBob Movie: Sponge on the Run[2] (originally titled The SpongeBob Movie: It's a Wonderful Sponge) is the third feature film based on SpongeBob SquarePants, set to release in 2021.
Plot
SpongeBob and Patrick go on a rescue mission to save Gary, who's been snailnapped by Poseidon and taken to the Lost City of Atlantic City. The movie will reveal the first time our beloved characters (as kids) met at Camp... a magical moment that brings meaning to the power of true friendship.
Cast
Release
Since April 2, 2020, the film's planned theatrical release for May 22, 2020 has been postponed up until August 7 that year due to COVID-19 pandemic before Paramount finally scrapped its release and will instead release on digitally, first on premium digital formats and then exclusively on CBS All Access.[8] According to ViacomCBS CEO Bob Bakish, he addressed about the uncertainty regarding the film's planned theatrical release following the virus for the sake of public safety even if theaters were to reopen by its release.[9]
Trivia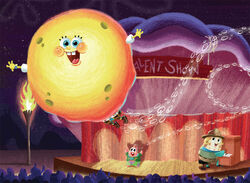 This will be the second SpongeBob SquarePants production to be animated in CGI.

It is also the very first to be fully produced in the format and to forfeit its 2D animation. It will be animated by Mikros Image which also worked on Sherlock Gnomes, another animated work by Paramount Pictures. Mikros is notorious for its 'cartoon-style' CG animation.

This will be the first SpongeBob movie to be released following the death of series' creator Stephen Hillenburg in 2018.
According to the original storyboards, this film was originally going to be a sci-fi adventure where cat invaders take over Bikini Bottom. It was also originally going to be the first SpongeBob film to be shot in the 2.35:1 aspect ratio instead of the usual 1.85:1.

It was also likely to reuse the 2D traditional animation with full-CG characters before being revamped to a full-CG feature.

The film's title was changed from The SpongeBob Movie: It's a Wonderful Sponge to The SpongeBob Movie: Sponge on the Run on November 12, 2019.[10]
The first trailer of the film was released on November 14, 2019.[11]
A series based on the film, itself a prequel to both the previous films and the series, has been greenlit. Titled Kamp Koral, SpongeBob's Under Years, the announcement has already met with backlash from fans including former showrunner Paul Tibbitt.
Academy Award-winning composer Hans Zimmer will compose the film's score. Zimmer has previously collaborated in Rango and various blockbuster films.

Zimmer has previously worked on another film based on a popular animated television series, The Simpsons Movie.

This is the first animated film for Tim Hill as a director after previously working on many live-action/CGI hybrid family films. He was a former storyboard artist and writer, as well as one of the developers. Sponge on the Run marks his official return to the SpongeBob franchise.
Like the previous films, it will have live-action sequences, but now it will seemingly take place somewhere in a land area rather than at a beach as previously done.
This will be Snoop Dogg's third appearance in a Nickelodeon production, after the Big Time Rush episode "Big Time Christmas" and the Sanjay and Craig episode "Street Dogg".
This will be the first film to use the new Paramount Animation logo.
Tiffany Haddish has previously collaborated in three animated sequels in 2019, as well as the comedy films released by Paramount Players. This is her first animated film with Paramount.
Keanu Reeves has previously starred in another animated film, Toy Story 4, but in this film, he plays a live-action role.
This will be the first SpongeBob film to collaborate with Skywalker Sound, an Academy Award-winning sound studio. It previously collaborated in the SpongeBob short, The Endless Summer.

Oscar nominee Tom Rogers is the film's sound designer who worked on Toy Story 3. He's also working on The Willoughbys for Netflix, another "frame-by-frame" styled CG animated film released this year.

The film's flashback to when SpongeBob first met Gary as a child is very similar to how Shaggy met Scooby-Doo in Scoob!, another CG animated film based on a television cartoon, released in May.

Conversely, both characters sound like an actual child rather than having their original voices high-pitched as in their original cartoons.
Animator Tony Craig is involved in the two films.

Strangely, while being a SpongeBob film, it is the first theatrical film to be based on a Nicktoon since Sponge Out of Water in 2015 and the first in the 2020s.
This is Matt Berry's second role in a SpongeBob film, having previously voiced Bubbles in Sponge Out of Water.
The film is rated PG "for rude humor, some thematic elements, and mild language" from the Motion Picture Association.
The film is likely to be 'darker' compared to previous films since it would feature an antagonist who use snails for cosmetic use. Some scenes may also be seemingly emotional.
Videos
Gallery
References
Community content is available under
CC-BY-SA
unless otherwise noted.