Wiki Targeted (Entertainment)
Play Sound

The Troop is a Canadian-American live-action television series about a trio of teenagers who fight and capture monsters and other supernatural phenomena that invade the fictional town of Lakewood. Created and executive produced by Max Burnett, Greg Coolidge and Chris Morgan, the series premiered on Nickelodeon on September 18, 2009. Nickelodeon cancelled the series midway through its second season and the remaining episodes were shown on NickToons. The series finale aired on May 8, 2013.
Premise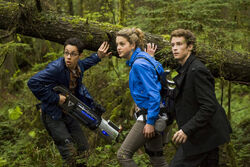 The show revolves around Jake, an average teen who wants to create his own comic book series and is enlisted by his school counselor Mr. Stockley to join "The Troop" a secret society that protects the world from monsters and creatures. Additional squad members include his fellow students, Hayley, the most popular girl in school and Felix, the school's main nerd. teenagers are chosen for the troop because their minds are more acceptable to the strange things in the world, but they are old enough to understand the responsibilities that are entitled. it is shown that once you grow to old monsters become more frightening for some it is a small fear for others it becomes completely terrifying to even look at a monster's picture. The pilot was shot in 2008 and the show itself has been described as "Men In Black at a suburban high school".
The show premiered to 3.5 million viewers in September 2009, premiering right after iCarly's "iThink They Kissed" (Season3/Episode51). In March 2010, the series was picked up for a second season.
Characters
→ Main article: List of The Troop characters
Main characters
Episodes
→ Main article: List of The Troop episodes
Episode information
Season
Episodes
Season Premiere
Season Finale
1
26
September 12, 2009
August 21, 2010
2
14
June 25, 2011
May 18, 2013
Awards
2010 Writers Guild of America Awards 2009 Winner: Children's Program Episodic & Specials: "Welcome to the Jungle" written by Max Burnett
2010 Leo Awards Winner: Children's Program: Directing: J.B. Sugar for episode "Wrath of the Wraith"
Broadcast
Nickelodeon (2010-2011)
NickToons (2010-2013)
External links