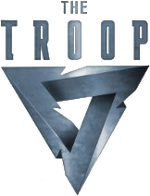 This is an episode list for The Troop listed by date of premiere. Nickelodeon schedules and airs the show's episodes out of chronological order, which may cause confusion between viewers.
Overview
Season
Episodes
Originally aired
Season Premiere
Season Finale
1
26
September 12, 2009
August 21, 2010
2
14
June 25, 2011
May 8, 2013
Episodes
Season 1: 2009-2010
Episode #
Title
Original air date
Production code
1
"Do the Worm"
12 September 2009
101
Three high school freshmen, Felix Garcia, Hayley Steele, and Jake Collins are part of a secret organization designed to fight monsters most of us deny exist. In this case, a Mongolian Death Worm which recently ate a construction worker in town is threatening an upcoming school dance.
2
"Forest Grump"
18 September 2009
102
A tree monster takes the form of a student in order to kill the student council. Also, Felix is forced into a situation where he must protect a boy that has wronged him in the past.

Guest Star: Jessica Parker Kennedy as Laurel

3
"There Is No I in Monster Hunter"
18 September 2009
103
Jake learns the value of teamwork. Meanwhile, Hayley finds out that it's not possible to be liked by everyone.
4
"Welcome to the Jungle"
18 September 2009
104
Jake is initiated into The Troop, a group that protects the town from alien monsters. His first mission is to help his mean neighbors, who have been turned to stone.
5
"Pajama Game... of Death"
25 September 2009
105
Jake and Felix must infiltrate Hayley's cheerleader slumber party in order to find out which girl is hosting a bug alien. Also, Stockey is nervous about attending his Troop class reunion.
6
"Taming of the Cube"
2 October 2009
106
While fighting a gelatinous cube monster, Haley and Jake accidently switch bodies.
7
"No More Master Nice Guy"
16 October 2009
107
A bullied Lakewood High classmate named Gus runs into an abandoned ice cream factory in order to escape from some bullies, and accidentally opens a Troop containment cell, releasing an extremely dangerous monster that he uses not only to fight his battles for him, but to gain as much power and status within the school as he can.
8
"The Great Punkin"
3 November 2007
108
On Halloween night, captured monsters break free when the security system breaks down. It's up to The Troop to re-capture these escaped fiends. Meanwhile, Stockley is frightened by a ghost story.
9
"Tentacle Face"
13 November 2009
109
Jake comes face-to-face with his monster-hunting hero. Meanwhile, a Kaiju monster's tentacle is stuck to Felix's head.

Guest Star: Jean-Luc Bilodeau as Lance Donovan

10
"Lost in Translation"
20 November 2009
110
The Japanese Troop arrives in Lakewood to view how Jake and the gang capture monsters. Once they're there, the two female J-Troop members develop a crush on Felix. In the end, the two Troops must work together to take down a monster.
11
"The Good, the Bad and the Ickie Doll"
12 December 2009
111
It's Christmas time and the Lakeview Troop have their hands full. First up, Jake and Hayley must work together to collect the new "Ickie Doll" toys that have infected the town. Meanwhile, Felix prepares for his annual webcast and Mr. Stockley has dating troubles.
12
"The Substitute"
9 January 2010
112
Legendary troop leader Bianca Stonehouse comes to visit the lair while Mr. Stockley takes time off for a dental visit to have his wisdom teeth removed. But as bad as Stockley's problems at the dentist are, things are much worse for Felix, Hayley and Jake, when they find their heroine is actually a monster in disguise who has the real Bianca Stonehouse locked away somewhere.
13
"Unpleasantville"
16 January 2010
113
A strange SWARM monster visits the town and causes its residents to act like perfect angels. However, the Troop will not be able to call on Mr. Stockley's help because he is on a silent retreat.
14
"My Gus Is Back, and You're Gonna Be in Trouble"
30 January 2010
114
After Felix's good friend Gus visits, problems arise between him and the Troop. Meanwhile, Haley tries to be more relaxed.
15
"Speed"
6 February 2010
115
A fast-moving Eris Fairy is ruining teenage romances throughout Lakewood High. Since the fairy thrives on seeing couples in love and acting like an anti-cupid, and The Troop refuses to allow non-members to participate in their activities, Jake and Hayley must pretend to be a couple in order for Felix to trap her, despite the fact that Hayley has a real boyfriend. However, their attempts to pretend to be a couple reveals feelings about each other that neither of them knew they had before.

Guest Star: Victoria Justice as the Eris Fairy

16
"I, Monster"
20 February 2010
116
It turns out that one of the Troop members is a monster. So, they go into lockdown until they can outsmart the monster and find out which member he is.
17
"Like a Moth to the Spotlight"
13 March 2010
117
Two classmates who witnessed a monster fight threaten to expose the Troop's mission. Meanwhile, Felix must figure out how to restore Stockley's memory.
18
"Vampsters"
20 March 2010
118
In order to find the lair of a group of monsters, Jake must go undercover. Meanwhile, Hayley helps Mr. Stockly over come his fears and present the morning announcements.
19
"Snarked Up"
16 April 2010
119
While Hayley and Felix try to capture a Griffon, Jake is pregnent with a baby snark.
20
"Itty Bitty Baby Dragon"
23 April 2010
120
When Jake and Phoebe's parents are away, Phoebe finds a baby dragon, and The Troop tries to return it before its mother finds out that it is missing. However, if they don't get it back in time the monster from the other realm will come over and it will become the end of the world. Also, Felix doesn't believe the dragon scale he has found brings bad luck and he tries to prove it to Hayley.
21
"The Wrath of the Wraith"
17 July 2010
121
When the gang stays in an old abandoned hospital over night, Jake discovers it is being haunted by a monster.
22
"Hayley and Felix on the Side"
24 July 2010
122
Venom from a Zylork poisons Hayley and Felix, which makes them think that they want to be eaten by a monster. So, Jake tries to stop them and find a cure before they get themselves in trouble.
23
"Double Felix (aka "Robo Rampage")"
31 July 2010
123
Felix decides to make a robotic version of himself, but things go wrong when it turns out to be evil. Meanwhile, Haley begins to act like a nerd when a monster bites her.
24
"Who Is Dr.Cranius?"
6 August 2010
124
Kelsey Grammer guest stars as a Harvard grad student who is also a monster and has just been recaptured.
25
"Batteries Not Included"
14 August 2010
125
An Oculypse escapes and reeks havoc on the students at school when Mr. Stockley fills in for the principal.
26
"Next Stop: Lakewood"
21 August 2010
126
Gus returns and tries to stop Troop operations and take over the town.
Season 2: 2011 - 2013
On March 12, 2010, It was announced that The Troop was renewed for a second season. In addition, Malese Jow and Matt Shively joined the cast. David Del Rio left the cast this season due to other commitments and was bumped to a recurring role. Tiger Beat/Bop magazine Posted on Oct 15, 2010 12:40 pm</ref> After numerous delays, the season premiered on Saturday, June 25, 2011. After airing the 7th episode of the second series, Nickelodeon put the show on indefinite hiatus. The remaining episodes began airing in the United States on Nicktoons beginning October 29, 2012. The remaining episodes were aired in Belgium, Greece and Latin America. The last three episodes of the season aired May 6, 7, and 8th, 2013 on Nicktoons.
Series #
Season #
Title
Original air date
Prod. code
27
1
"The Triangle"
June 25, 2011
201
Cadence throws a monkey wrench into Jake and Hayley's blossoming relationship. Felix joins D.O.R.K., a secret club for geniuses.
28
2
"The Monster Within"
July 2, 2011
202
The Troop tries to find a monster hidden in their school. Felix gains undeserved notoriety for defeating a bully.
29
3
"It's All in the Game"
July 9, 2011
205
Felix is promoted to Troop International HQ and is replaced by Kirby Bancroft Kadworth III. A video game is hyponotizing players to enter a Kaiju feeding portal.
30
4
"Mirrors"
July 16, 2011
210
A monster living in mirrors causes trouble in the school. Jake meets his comic artist idol Lee Stanley, who expresses interest in Jake's stories.
31
5
"Oh Brother"
July 23, 2011
208
Jake and Hayley recruit Etienne to be a temporary teammate during Felix and Kirby's transition. Candence's brother comes to town.
32
6
"Through The Looking Glass"
July 30, 2011
209
Jake expels Cadence from the human world, but then he must enter the monster world in order to recover his portable Troop Grid that allows him to close portals. Meanwhile, Haley and Etienne pretend there is a gas leak to keep the portal from being exposed, however other people gather around thinking that a popular band called Gas Leak is going to perform.
33
7
"Start Me Up"
August 6, 2011
211
Morgan, Kirby's old rival joins The Troop from Tulsa and immediately challenges his chance of winning the science fair. She uses a small spark monster to power her butler robot that looks exactly like Kirby and turns evil and can't be defeated as Kirby defeats it when he traps in one of his inventions and captures the monster. Meanwhile, Jake and Hayley compete to get Cadence's other ticket for a boy band concert, New Young Boys but give the tickets to Mr. Stockley as they think he has a sister who likes them.
34
8
"The Prisoner of Lakewood"
October 29, 2012
206
A monster switches places with Hayley and realizes it easier to be a monster than a teenage girl. Kirby gets trained hard to become a good member of the Troop.

Note: This episode was released on iTunes in August 2011 before it aired.

35
9
"Doom Hound"
October 29, 2012
204
Cadence and her friends accidentally release a deactivated Doom Hound.
36
10
"A Sniff Too Far"
October 30, 2012
207
A Flaying Pincer Mole has been attacking the school repeatedly and the only way to find its lair is to team up with the Sniffer... an incredibly annoying monster.

Note: This episode was released on iTunes in August 2011 before it aired.

37
11
"Eris Returns"
October 30, 2012
203
Cecilia, an Eris Fairy (Daniella Monet) returns and mistakens Etienne for Felix and they become a couple. Cecilia's ex-boyfriend, Tod comes from the monster world to get her back and get rid of Etienne.

Note: This episode was released on iTunes in August 2011 before it aired.

38
12
"This Bird You Cannot Cage"
May 6, 2013
212
An electric-eating Klox threatens Lakewood and the school prom.

Note: This episode was released on iTunes in August 2011 before it aired.

39
13
"Road Trip (aka "The Kiss")"
May 7, 2013
213
Jake, Hayley and Mr. Stockley get a distress call from another Troop team during driver's ed training. Meanwhile Kirby runs for Green Czar and Cadence helps him win against Mazie (Ashley Argota).

Note: This episode was released on iTunes in August 2011 before it aired.

40
14
"Ice Hassles"
May 8, 2013
214
Cadence sees an opportunity to prove her worth when The Troop is attacked by an ice monster.
This page uses content from the English Wikipedia. The article or pieces of the original article was at List of The Troop episodes. The list of authors can be seen in the page history. As with Nickipedia, the text of Wikipedia is available under the GNU Free Documentation License.
Community content is available under
CC-BY-SA
unless otherwise noted.