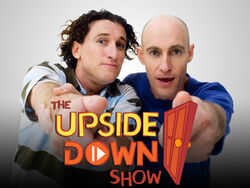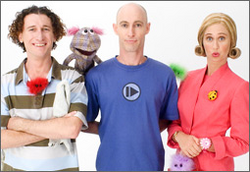 The Upside Down Show is a live-action series produced for Nickelodeon's sister channel, Noggin. It ran for one season of 13 episodes. The actors wanted to continue the show, but Noggin was not interested in producing a second season. A planned finale episode called The Upside Down Movie was scripted in 2010, but it was never finished.
The show is set in a surreal apartment with many doors that all lead to bizarre rooms. There are five main characters: David, Shane, the Schmuzzies, Mrs. Foil, and Puppet. At the start of each episode, David gives the viewers an imaginary remote control with the power to change what happens in the show.
The show was critically acclaimed, with many critics calling the surreal humor enjoyable for both adults and younger viewers. Despite its short run, reruns continued in the United States until 2012. All 13 episodes have been released on DVD.
History
The show started development in December 2004 when Sesame Workshop and Nickelodeon commissioned a half-hour pilot episode. In mid-2005, the pilot was screened at an international event called MIPTV. It then ordered a single season of 13 episodes, which were co-produced by Sesame Workshop and Noggin LLC. The show was written, produced, and commissioned in New York, USA, and it was filmed in Sydney, Australia.
In the United States, all of the episodes aired from October to November 2006. One episode, "Farm," was shown on the main Nickelodeon channel as a sneak peek. The rest were exclusively shown on Noggin.
Cast
David Collins

as David: the younger brother of Shane who is laid-back and very creative. He gives the viewers the imaginary remote control in each episode.

Shane Dundas

as Shane: David's older, more excitable brother who is a very quick thinker and wears a blue shirt with a fast-forward symbol on it.

Emma de Vries

,

Virginia Goodfellow

, and

Alice Osborne

as the Schmuzzies: a group of colorful, fuzzy, dustball-like creatures who live in every corner of the apartment.

Amanda Bishop

as Mrs. Foil: the brothers' very odd neighbor who has a wide variety of different jobs and an unlimited wardrobe of special costumes.

Mat McCoy

as Puppet: the brothers' sidekick and roommate who is an aspiring actor.
Unfinished movie
→ Main article: The Upside Down Movie
In 2008, the newspapers The Australian and Sydney Morning Herald announced that a movie adaptation called The Upside Down Movie was in development. The movie's script was finished in 2010, but the creators never received enough financial support from outside investors to start filming. Nickelodeon Australia funded the script development but was unable to finance the entire project. In 2017 and 2019, the actor for David (David Collins) stated that he is still interested in making it. (source)
Episodes
→ Main article: The Upside Down Show episode list
Links
External links