Wiki Targeted (Entertainment)
Play Sound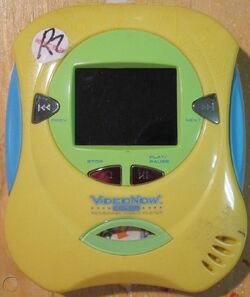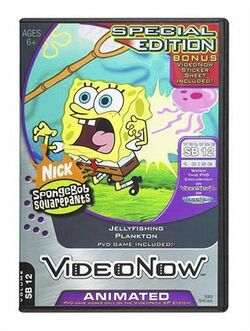 The VideoNow was a personal portable video player designed for children, distributed by Hasbro through its Tiger Electronics subsidiary. It operated using unusually sized 4" (108mm) PVD Discs. The discs allowed for about 30 minutes (half an hour) of video, the average length of a full television episode. Video data was stored on the left audio channel with mono audio on the right channel. The player was originally released with a black and white format, but was soon updated as the VideoNow Color. Game-playing functionality was added with the next model, the VideoNow XP, but abandoned with the follow-up, VideoNow Color FX.
Numerous Nickelodeon shows had episodes released on VideoNow during its run. Since a single PVD disc could only hold half an hour of video, most releases only included a single episode, but there were also multi-disc releases that featured at least three episodes each.
Releases
Uh-oh! ¡Falta ago!


This article page is incomplete and needs to be completed. Any user is obliged to do so.
Single episode releases
"It's Cupid, Stupid"
"Tweenage Tycoons"
"Coup DeVille"
"Truth or Consequences"
"One of a Kind"
"Parental Bonding"
"Splitting Images"
"First Crush"
"Dune Buggy"
"Grammy"
"Party Machine" / "Speak No Evil"
"Return of the Raggedy Android" / "The Boy Who Cried Robot"
"All About Sam" / "Half Twister"
"Bruised Man's Curve" / "Pool's Out Forever"
"That Old Skateboard" / "Follow the Leader"
"Minimum Cool"
"Slam Dunk"
"Bubblestand" / "Ripped Pants"
"Hooky" / "Mermaid Man and Barnacle Boy II"
"Dying for Pie" / "Imitation Krabs"
"No Free Rides" / "I'm Your Biggest Fanatic"
"Graveyard Shift" / "Krusty Love"
"Nasty Patty" / "Idiot Box"
"As Seen on TV" / "Can You Spare a Dime?"
"No Weenies Allowed" / "Squilliam Returns"
"Jellyfishing" / "Plankton!"
"The Chaperone" / "SB-129"
"Pizza Delivery" / "Home Sweet Pineapple"
"Hall Monitor" / "Jellyfish Jam"
"Sleepy Time" / "Suds"
"Fools in April" / "Neptune's Spatula"
"Grandma's Kisses" / "Squidville"
"The Secret Box" / "Band Geeks"
"Procrastination" / "I'm with Stupid"
"Sailor Mouth" / "Artist Unknown"
"Krab Borg" / "Rock-a-Bye Bivalve"
"The Great Snail Race" / "Mid-Life Crustacean"
"Have You Seen This Snail?"
"F.U.N." / "Squidward the Unfriendly Ghost"
3-Disc Packs
Cover
Title
Episodes included
VideoNow Pack-in PVD

All Grown Up!: "Susie Sings the Blues"
SpongeBob SquarePants: "Texas" / "Walking Small"
Rocket Power: "Shark Bait" / "A Shot in the Park"

Nick Mix #1

ChalkZone: "The Heist" / "Battle of the Hands" / "Chocolate Brunch" / "Oh My My"
The Adventures of Jimmy Neutron: "Retroville 9" / "Grumpy Young Men"
SpongeBob SquarePants: "Procrastination" / "I'm With Stupid"

Nick Mix #4

SpongeBob SquarePants: "Bubblestand" / "Ripped Pants"
The Fairly OddParents: "The Big Problem" / "Power Mad"
The Adventures of Jimmy Neutron: "Raise the Oozy Scab" / "I Dream of Jimmy"

Nick Mix #14

ChalkZone: "Waste Mountain" / "Madcap Snap" / "What's My Line?" / "Putting on the Dog"
Rocket Power: "It Came from Planet Merv" / "Netherworld Night"
SpongeBob SquarePants: "Nature Pants" / "Opposite Day"
"Gee, this is harder than I thought."
This article doesn't contain enough information. If you know anything about VideoNow,