Wiki Targeted (Entertainment)
Play Sound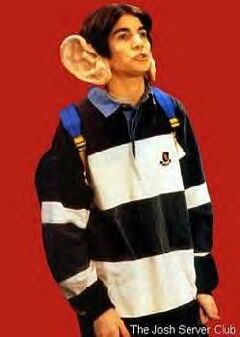 Walter the Earboy, better known simply as Earboy, was a character played by Josh Server on All That. His name is derived from the fact that each of his ears is almost as large as his entire head (as the theme song puts it, "His ears are REALLY BIG!"). Earboy, along with his friends Pizza Face (a boy with a literal slice of pizza for a face, played by Kel Mitchell), Tinsel Teeth (whose mouth is full of Christmas decorations and was played by Alisa Reyes), and Four Eyes (who has four eyeballs in two sockets, played by Angelique Bates), are the outcasts of Dullmont Jr. High, and frequently devise ways to become popular or likable. To this end, Earboy frequently seeks the aid of H. Ross Perot (Katrina Johnson), who is depicted as a bizarre elderly man who does insane things such as keeping a homeless man for a pet or shooting arrows at chicken legs hanging on his wall; whenever anyone questions Perot's motivations, he replies "'Cause I got FOUR BILLION DOLLARS!" Despite his oddities, Perot does occasionally give Earboy good advice, and the teenage freak often comes out ahead.
Appearances
Community content is available under
CC-BY-SA
unless otherwise noted.