Wiki Targeted (Entertainment)
Play Sound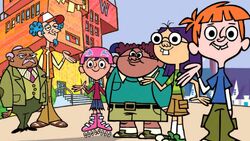 Wayside (also known as Wayside School) is a Canadian animated series produced and owned by Nelvana Enterprises. It was developed by John Derevlany and is based on Louis Sachar's book series Sideways Stories from Wayside School.
In Canada, the series debuted on Teletoon with a one-hour pilot in 2005. In the United States, the show was briefly aired on Nickelodeon on June 25, 2007. The remaining 6 episodes of the series ran from August 26 - September 18, 2008 on Nicktoons Network.
Plot
The series takes place at the fictional Wayside School, an unusual Escher-esque 30-story grammar school. The school had been accidentally built "sideways," with one classroom in each of the 30 stories instead of 30 classrooms on one floor. Like in the books, there are actually 29 floors in the school; the imaginary 19th floor is inhabited by the imaginary Miss Zarves. The series revolves around a new student at the school, named Todd, and his adventures adapting to life as a student at the top floor of Wayside School.
At Wayside, every floor appears to have lockers, stairs, classrooms, doors, and light fixtures. The first floor contains the principal's office; the school campgrounds, the sixteenth floor contains the faculty lounge and pool; the fifteenth floor contains the cafeteria and kitchen; the (technically nonexistent) nineteenth floor contains a chute blocked by wooden boards, which is rumoured to be the classroom of the legendary Ms. Zarves; and the thirtieth floor contains Mrs. Jewls' classroom.
Every floor also appears to be a different colour. To add to the school's Escher-esque style, all of the features of the floors—doors, lockers, stairs, etc.—are placed in very unusual ways, as seen in the Escher artwork, Relativity. All of the floors' features are either right-side up, upside-down, sideways, or suspended high above the floor, as seen with several lockers.
Characters
The main characters are Todd, a transfer student; Maurecia, a tomboy who wears roller skates; Dana, Wayside's resident overachiever; Myron, a self-centered student who wants to become class president; and Mrs. Jewls, Todd's scatterbrained teacher.
Broadcast History
Nickelodeon: June 25, 2007 - February 14, 2008 (20 episodes)
Nicktoons Network: September 1, 2007 - April 5, 2010 (6 episodes; reruns)