Wiki Targeted (Entertainment)
Play Sound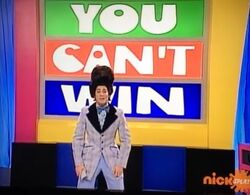 You Can't Win was an All That game show skit, featuring host Jerry Fytootal (surname later changed to Futile), played by Josh Server. Three contestants, played by other cast members, would appear on the show. As the title suggested, it was quite literally impossible for the contestants to win. The first round featured quiz questions that either had no answer or were incomplete (a classic example: "How many shoes?"). In addition, certain events could trigger a massive loss of points, such as speaking when not supposed to, or saying a certain word (On one occasion, a contestant actually answered the question correctly; Jerry then claimed that he did not hear the contestant). After the quiz round, contestants would be asked to perform random and completely difficult tasks, such as transforming a sheep into a dolphin or putting their entire foot in their entire mouth in ten seconds, or speaking to a dog in another language. This was a notable occasion in which contestant Antoine(played by Kenan Thompson) refused to participate in the final challenge by pouring the bowl of pudding on Jerry's head and left. On one notable occasion, female bodybuilder Helga Schlumpkenfist (played by Danny Tamberelli) actually completed her task: eating 400 meatballs within 10 seconds. However, she accidentally ate three extra meatballs and once again lost. Angered by this, she brutally mauled Jerry, and then declared herself the winner.
This article is missing an appropriate picture. You can help Nickipedia by adding one!


Once there is a sufficient picture or pictures on the page, this can be removed.
This page uses content from the English Wikipedia. The article or pieces of the original article was at List of All That sketches. The list of authors can be seen in the page history. As with Nickipedia, the text of Wikipedia is available under the GNU Free Documentation License.