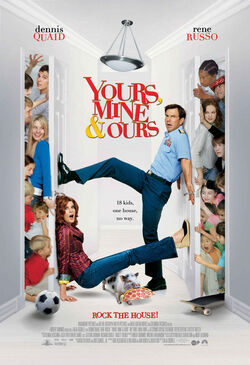 Yours, Mine & Ours in a 2005 family comedy film produced by Paramount Pictures, MGM, Nickelodeon Movies and Columbia Pictures and released into theaters on November 23, 2005. Directed by Raja Gosnell, it is a remake of the 1968 film of the same name and it stars Dennis Quaid and Rene Russo.
Synopsis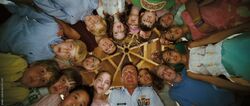 A widowed Coast Guard Admiral and a widow handbag designer fall in love and marry, much to the dismay of her 10 and his 8 children. The kids don't like each other until they come with a plan to break their parents up, but along the way they actually start getting along.
Cast
The Beardsley children (8 children)
The North children (10 children)
Supporting cast
Reception
Box office
Yours, Mine and Ours opened at #3, with an opening weekend of $17,461,108 in the US.[1] Its final North American box office was $53,412,862, and its international box office was $18,615,890, earning a combined total of $72,028,752, well above its $45 million production budget.[2]
Critical reception
Yours, Mine and Ours received overwhelmingly negative reviews from film critics. Although Rotten Tomatoes gives the film a score of only 6% based on 105 reviews, 64% of audiences on the site recommended the movie.[3] Metacritic gives the film an average score of 38%, based on 25 reviews.[4] The film is tied with The Last Airbender for being the lowest-rated Nickelodeon film on Rotten Tomatoes, with a rating of 6%, although this film's "Top Critic" ratings received a lower 4% rating.
Home video
The film was released on DVD and VHS on February 28, 2006.
Trivia
Videos
Trailers
Clips
References
↑ Yours, Mine and Ours (2005) - Weekend Box Office Results. Box Office Mojo. IMDB. Retrieved on 2008-07-06.
↑ Yours Mine and Ours (2005). Box Office Mojo. IMDB. Retrieved on 2010-12-05.
↑ Yours, Mine, & Ours. Rotten Tomatoes. Flixster. Retrieved on 2010-12-05.
↑ Yours, Mine & Ours Reviews, Ratings, Credits. Metacritic. CBS. Retrieved on 2010-12-05.
This page uses content from the English Wikipedia. The article or pieces of the original article was at Yours, Mine & Ours. The list of authors can be seen in the page history. As with Nickipedia, the text of Wikipedia is available under the GNU Free Documentation License.
Community content is available under
CC-BY-SA
unless otherwise noted.